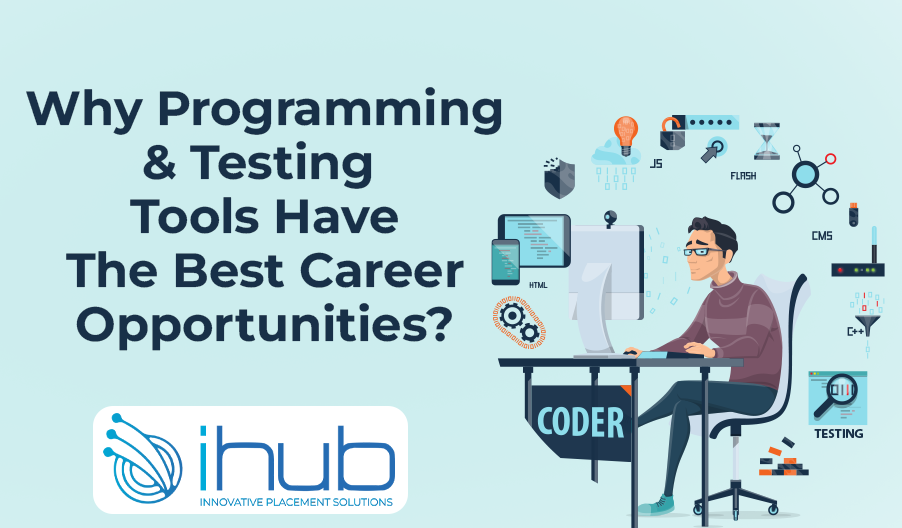 Why Programming And Testing Tools Have The Best Career Opportunities?
The evolution in the digital space is exceptional today. It just is reaching places within a span of 2 years with booming opportunities for career consideration. The pandemic has paused a routine life and kick-started the digital life where knowing about computers and technology has become our new routine.
Let us know a bit about Programming and Testing Tools now.  1.Programming is the process where you instruct the computer to perform a certain function through a language that the computer understands in the form of coding. This will help us develop an application and define its functions. If you can write these programs or develop these softwares, you can call yourself a programmer who is fully eligible to make an application.  Having said that, Programming is not a very difficult task if you have the zeal of becoming a coder. There are multiple languages that one can learn for coding like C+,C++, SQL, Python, Java, Ruby, Swift and so on. At this step, it is very important for one to decide what kind of programming they wish to do like:
Do they want a program with many rules or should it be flexible?
Have any dream company that you want to work for?
Do you want to develop a website or just create code that runs in the browser?
Testing Tools are the most important product which go hand in hand with the programming. If you write a program using any language, testing is used to see if your program is running properly or has any bugs. Testing is easy compared to programming and very interesting too. Testing tools are ideally responsible to see if the program is performing as per your instructions or not. You can make the changes accordingly based on these bugs that you identify when running a program to make it fully functional.
Before making any decision, think about the above basic things to calculate and exactly know where you wish to see yourself. The programming languages vary from low-level to High-level based on your vision. The high level language programs are highly automated compared to Medium languages. Both types of languages are very useful in companies that need optimised code and are in immense demand right now. Programming is one of the high paid jobs across the world and there is no limit to it yet. On the other hand, Testing is a booming industry with ample career opportunities that will let you work with high-end companies. So explore your skills and get the hang of a programming course as it supports your resume to be perfect.
iHub is a subsidiary company of Quality Thought which has been a pioneer in the IT training industry with over a decade experience who provide the best training for the students at its best and acting as a bridge for their career goals. If you are newbie to the world of coding with a passion or want to excel in the area of programming, you are in the right place. iHub gives you one of the best exposure to these courses with a curriculum that you will learn in depth and do projects vigorously focusing on the latest trends covering the subject upo your full understanding. The constant urge of giving the best to the young innovative minds who have great potential is what keeps us thriving. Look out on this space and read our blogs  for more information on the different programs and courses for you to be well aware of making choices.